Thursday, Apr 7, 2016
9:33 AM
Let's be clear about something...
Counting calories just isn't sustainable over a long period time... unless your OCD... sorry OCD folks, but it's true. ;)
Calories
are
important from a sense that not getting enough is almost as bad as getting too many.
Click here to read my last post about finding your optimal caloric intake.
Now that's out of the way, let's get down to business!
Here's 2 Tips to get you on the right track.
Tip #1
This book is based on the science of how certain foods impact our physical health and mental health.
By eating more foods that make us healthier and avoiding foods that make us less healthy, we can dramatically improve our health in a short amount of time.
Food is a very emotional thing for a lot of people. By breaking these chains it opens a whole new world of health and vitality.
At the end of the day, we are what we eat. I've tested thousands of people over the past few years and one thing is as true today as it was from the beginning...
YOU CAN'T OUT TRAIN A SHITTY DIET!
If you train so you can enjoy some of the finer things in life, I'm ok with that. We're all human and I'm pro cheat meal one or two times per week.
In addition, when it comes to nutrition, I'm not comfortable with the term "Diet". Check out this article from my friend Kevin Kwan, the owner of Athlete Inside Performance in Calgary, on
4 Reasons Why Diets Fail
.
Tip #2
Sign up with a gym that does group training or get a personal trainer.
Reason I suggest this is because you don't have to think about creating your own work out program. Most people aren't sure where to start so they do nothing.
Let the professionals handle the programming. All you need to do is show up on time and bring your gym bag.
Ideally getting to the gym 3-4 days per week would elicit some nice results in a short amount of time in partnership with a healthy eating plan.
In case you missed the first part of the article, there's only 2 basic concepts you need to create the body you desire:
Eat More Clean and Nutritious Foods, Avoid Foods That Make You Less Healthy
Regular Physical Exercise
That's it.
There are no pills that will magically shed body fat or build muscle. You have to do the work.
That being said, some supplements can be a great addition to your training and nutrition programs. If you want straight facts and no bull on what works and what doesn't, call our friends over at
Bond Nutrition
. Some of the most knowledgable and straight up people in the biz.
What gym in your area would you recommend to other people looking to get started with a good group of people?
---
Tuesday, Mar 8, 2016
8:43 PM
I have to go on a bit of rant here so I apologize in advance....
Lately I've been hearing a lot of talk from my clients about BMI or Body Mass Index.
Some are concerned about not having a "healthy" BMI.
Some know it doesn't mean anything but aren't sure why.
Some have a "healthy" BMI but are far from healthy.
Here's the formula and what each of the classifications are:
BMI = Weight,kg/(Height,m) squared
Below 18.5 = Underweight
18.5 to 24.9 = Ideal
25.0 to 29.9 = Overweight
30.0 and above = Obese
For those of you that don't know, BMI was introduced in the early 19th century by a Belgian, Lambert Adolphe Jacques Quetelet. He was a mathematician, not a physician. He produced the formula to give a quick and easy way to measure the degree of obesity of the general population to assist the government in allocating resources.
Right out of the gate we're on the wrong track.
One major flaw is that it doesn't even take in the circumference of the waist which is clear indicator of obesity.
I'll give you 2 clear examples of why BMI is misleading and actual results from clients I've tested myself.
Subject #1
- A Male Body Builder - Lifting heavy weight regularly, consumes large amounts of calories daily.
Weight - 203 lbs
Height - 5' 9"
BMI - 30 - Which would be classified as Obese
Body Fat % - 8% - Healthy is 10-20% in men
As you can see, this client has a lot of lean muscle mass and very little fat mass. Would you consider this man to be unhealthy based on his BMI?
Subject #2
- A Middle Age Women - Never lifted weights, consumes too little calories daily based on her Basal Metabolic Rate.
Weight - 127.6 lbs
Height - 5' 3.6"
BMI - 22.0 - Which would be classified as Ideal
Body Fat % - 33.7% - Healthy is 18-28% in women
Based on the BMI standard, she would be considered healthy. When we look below the surface, we can see that she's at risk for two major reasons.
Having a body fat percentage above 28% in women (20% in men) increases the risk of cardiovascular disease.
With her lean mass so low, she is a prime candidate for osteoporosis, a serious condition which decreases the strength of our bones.
I know this isn't politically correct or a very nice comment to make, but I'm sure most everyone has heard the term "skinny fat" before. This is an example of the results we would see in a person with this body type.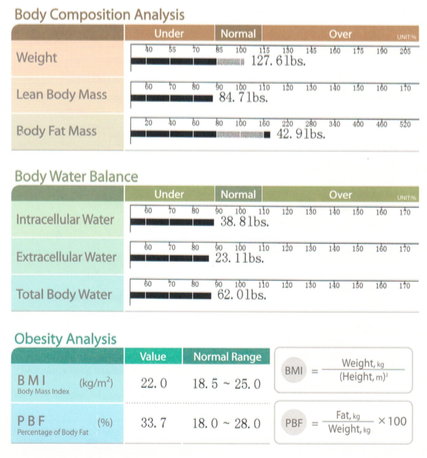 What's really sad is that I don't think the BMI standard will ever change if the insurance industry has anything to do with it. They make lots of money charging premiums to people that have higher BMI's regardless of if they're obese or muscular.
Check out the link below to see more reasons why BMI just doesn't give us the full picture.
Click here for a great article on the Top 10 Reasons Why BMI Is Bogus
Rant over. Thanks for reading! hahaha
So what's your BMI story? When did the light bulb come on for you when you realized it didn't mean anything about you?
---
Tuesday, Mar 1, 2016
4:04 PM
What comes to mind as reasons why people choose fast food over real whole foods?
Most people will come up with the following two reasons:
Too Busy... with work, family, etc.
Pure Laziness
It's not very surprising in a world where all of us are in a hurry to get from one event to the next. Getting the kids to school, to sports, birthday parties plus your own social calendar to boot. If you actually have one and have kids please let me know how you do it in the comments section! :)
We try to cram so much into our days that getting a nutritious meal can be extremely challenging.
Not only this, but instant gratification has become the bane of modern society. It seems more and more common where people aren't willing to put the work in to get a desired result.
Don't get me wrong though because I'm no saint. I've been know to hit the drive through at Tim Horton's and grab a breakfast sandwich. When I have to be testing in Calgary or Edmonton at 8am that means I'm on the road at 5:30am and grabbing something quick. My food for the day is always packed though.
It's fast, it's convenient and there's a time and a place where it fits in.
That time isn't every day.
The biggest problem I see is that these small, seemingly inconsequential decisions turn into habits. In a year of eating fast food and not working out you might put on 5 to 10 lbs. That may not sound like much but it can sneak up on a person pretty damn quick if you don't catch it.
Lets take a longer view of this. Even on the low end of adding 5 lbs per year, over five years you could be 25 lbs heavier ... ten years and we're looking at 50 lbs ... twenty years it could be 100 lbs.
Don't kid yourself because this happens all the time and I see it every day. Each of us knows someone who this has happened to.
Now I'm not picking on people that are obese. I don't believe that people intend on letting this happen. Like I said it sneaks up and BOOM! You don't even know what happened and there you are.... 50 lbs heavier.
One caveat I'll make is that some people have serious medical conditions that make it extremely difficult to lose fat. That's a whole other discussion that we won't cover here.
What kinds of things can happen to our body as we age and put on fat?
Heart disease and stroke
High blood pressure
Diabetes
Some cancers
Gallbladder disease and gallstones
Osteoarthritis
Gout
Breathing problems, such as sleep apnea (when a person stops breathing for short episodes during sleep) and asthma.
*Check this link on
WebMD
to get the full list and details of each disease.
What kind of future do you think the person that has these kinds of diseases looks like?
Are they going to be able to play with their grandkids?
Are they going to be able to walk up and down the stairs?
Are they going to be able to get off the toilet?

Think about this....
Is the majority of your food moving you towards a future of health and vitality?
OR
Is it moving you towards a future of disease and disfunction?
What kind of future are you going to create?
Let us know in the comments section.
---